CONSTRUCTION PROGRESS OF HORIZON PODOL BUSINESS CENTER – LOCATED AT 9 NABEREZHNO-KHRESHCHATYTSKA STR.
Mon, 11/09/2009 - 12:30 — root
Five-storey building:
- presently the works for façade heat insulation are being finished, then the façade will be covered with the stucco and will be painted.
- metal tiling is being installed on the roof, in the photo below one of the towers of the building already having the coating is visible.
- the carcass for gypsum plasterboard covering in the premises was installed, the works for installation of gypsum plasterboard will begin any day now.
- all utility systems are assembled and installed: conditioning and ventilation, sewerage, electricity.
- picturesque view to the Dnipro river opens from the windows of the building.
- a lot of sunlight passes through such huge windows of the mansard, as well as these windows allow admiring the views of the river.
Nine-storey building:
- monolithic and carcass works in the basement floor are completed, presently the works in the ground floor are being conducted.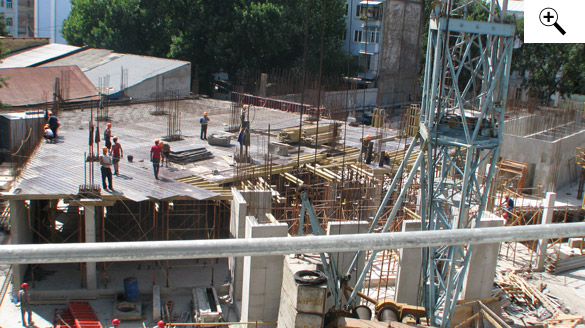 - the elevator hall of the ground floor can be seen already in concrete.
Превью:
<p class="bodytext">Five-storey building:</p> <p class="bodytext">- presently the works for fa&ccedil;ade heat insulation are being finished, then the fa&ccedil;ade will be covered with the stucco and will be painted.</p> <p class="bodytext">- metal tiling is being installed on the roof, in the photo below one of the towers of</p>