REPAIR AND CONSTRUCTION ACTIVITIES IN KOSTYOLNA STREET ARE UNDERWAY
Mon, 11/09/2009 - 12:01 — root
- installation of raised floor and carcass for suspended ceiling is going on.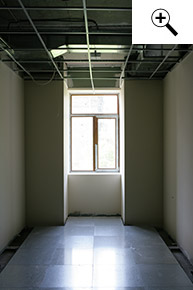 - office walls and columns are already faced with plasterboard and painted, metal plastic double window frames are being installed, air conditioning system is being mounted.
- WC areas are being arranged: walls are faced with plasterboard, floor is ready for tile laying.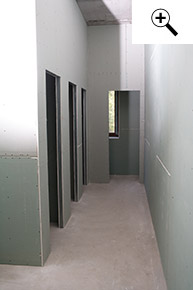 - walls of the central stairway section are being faced with plasterboard, rails will be replaced soon.
- new power supply cables laid throughout the building.
- the attic floor is ready for finishing, the picture below shows that fan coils have been installed there as well.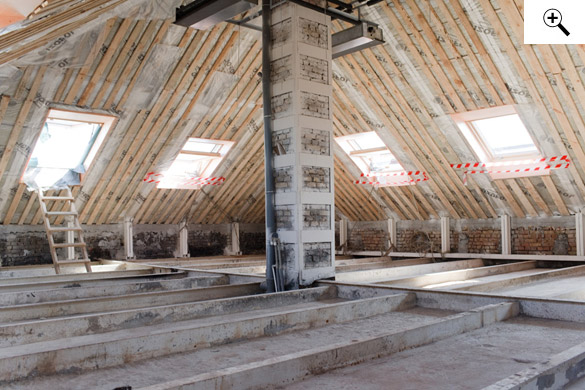 During construction work, we preserve old architectural elements of the building, such as stucco work along the entire perimeter of the building capping.
Presented below are pictured views from windows on all sides of the building:
- flamboyant florescence of chestnut trees – such is the view of Kostyolna Street from the façade windows of the building.
- view of the arch and park of Druzhby Narodiv from the windows on the left side of the building, with the Ukrainian House and adjacent park in the foreground.
- view of Roman Catholic Church of St. Alexander to the left.
- view of Roman Catholic Church of St. Alexander to the left.
Now, in the spring, the building is buried in verdure, there is a chestnut alley with benches right in front of the building where one may sit in the shadow of chestnut trees and forget about all troubles.
Превью:
<p class="bodytext">During construction work, we preserve old architectural elements of the building, such as stucco work along the entire perimeter of the building capping</p>