"HORIZON PARK BUSINESS CENTER" PHASE 2
Mon, 11/09/2009 - 11:31 — root
CJSC "ISA Prime Developments" keeps on the construction of "Horizon Park Business Center", Phase II, 40 000 square meters, located at 4, Mykoly Grinchenko Str., Kiev, Ukraine. Tower 1 (18-level building) has currently got its 14th floor under construction, at Tower 2 (19-level building) – the 8th floor is underway. Here is a picture of the construction site, made as of November 24, 2008. The construction of a multilevel indoor parking for more than 1000 car parks has also commenced.
The concrete structure of the project is scheduled to be finished within the following 3 months, unless winter weather slows down the progress up to 2-3 weeks, which is no way regarded as a delay.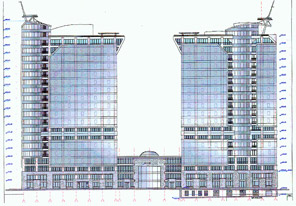 Last week we bought 12 OTIS elevators for both Towers at €1 127 207,96. Hereby attached please find a brochure, highlighting OTIS elevators technical characteristics. The purchase of 2 panoramic elevators is in the pipeline.
HVAC has been already installed on the first 6 floors of Tower 1. However, the ventilation system has been complete on lower levels of both Towers, allocated for indoor parking. The installation of a power-supply system is also ongoing.
Превью:
<p class="bodytext">CJSC &ldquo;ISA Prime Developments&rdquo; keeps on the construction of &ldquo;Horizon Park Business Center&rdquo;, Phase II, 40 000 square meters, located at 4, Mykoly Grinchenko Str., Kiev, Ukraine</p>