CONSTRUCTION PROGRESS OF HORIZON PARK BUSINESS CENTER PHASE II, 4 N. GRINCHENKO STR.
Mon, 11/09/2009 - 11:22 — root
Façade works are completed: metal ailerons are installed and glazing is made.
- Monolithic and carcass works in underground parking lot come to a close, the roof of the parking lot will be the approach to the buildings 1,2,3, as well as small area of external parking lot.
- The works for hangar dismantling that served as the warehouse for building materials were begun, then in its place the outdoor parking will be arranged.
- Concrete road has been arranged – approach to entrance group of the building 1.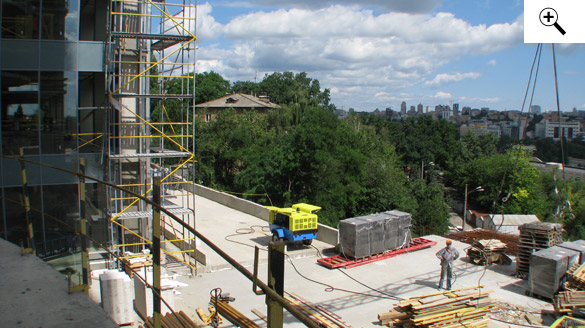 - The chillers of the conditioning system are installed.
- Sprinkler fire-fighting system is already functioning and fire cocks are installed on each floor.
- Finishing works of the premises at 16, 17, 18 floors are being completed for our first tenant – Platinum Bank: Gypsum plasterboard partitions are installed, in accordance with the planning given by the tenant; the walls were painted with colours chosen by the tenant; false floor and carpeting are installed, the colour of which was also chosen by the tenant; false ceilings and lights therein are mounted too.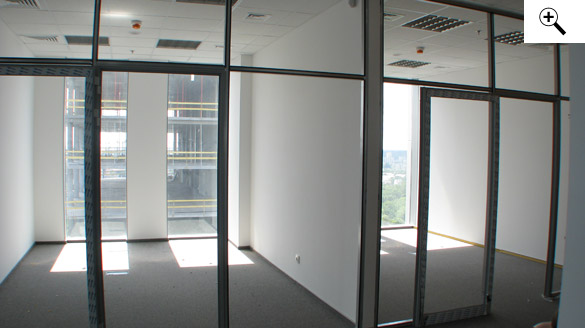 - Air temperature regulators are installed, individual for each separate premise.
- In the photo below it is possible to evaluate the view from the windows, which will be seen to the employees of Platinum Bank. The photograph was made in the premise with open planning.
Превью:
<p class="bodytext">- Fa&ccedil;ade works are completed: metal ailerons are installed and glazing is made.</p> <p class="bodytext">- Monolithic and carcass works in underground parking lot come to a close, the roof of the parking lot will be the approach to the buildings 1,2,3, as well as small area of</p>